The Future of Wind Energy in Ireland
Ireland has one of the best wind resources in Europe. With the aid of modern wind turbines this free, natural resource can be harnessed to provide clean, green, renewable electricity. On the island of Ireland there is a low population density and a limited demand for electricity. The potential to produce renewable electricity from wind far exceeds the country's energy requirements. Lir Energy believes that the real future for wind energy in Ireland lies in the export of renewable energy to centres of high electricity demand in the UK and European Union.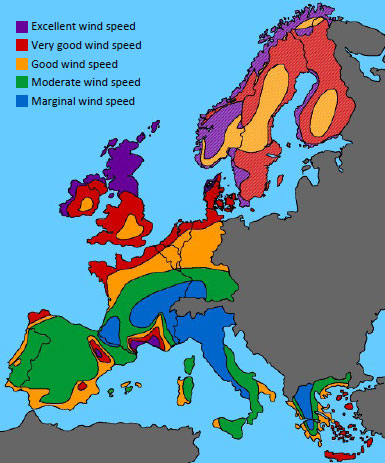 There are currently 2000 MW of wind turbines connected to the Irish grid but there is a limit to the amount of wind generation that the Irish grid is capable of absorbing.
See Garrad Hassan 2003
THE IMPACTS OF INCREASED LEVELS OF WIND PENETRATION ON THE ELECTRICITY SYSTEMS OF THE REPUBLIC OF IRELAND AND NORTHERN IRELAND: FINAL REPORT
" At approximately 4000 MW of wind generation, the curtailment of the last wind turbine will be such that it will operate for only a few hours per year, near the times of system maximum demand. "
The creation of a market for Irish energy into Europe is an important goal for both the EU and the Irish Republic. Since 2005 Lir Energy has been researching the feasibility of exporting wind energy to the UK and European Union.
The main determining factors for the creation of a viable export market of energy from Ireland are:
SCALE: Wind farms of sufficent scale must be in place or in development for it to be feasible to build the infrastructure to export the electricity generated.


THE USE OF ESTABLISHED TECHNOLOGY: Onshore wind technology is the most mature and reliable of all renewable energy technologies (with the exception of hydro). It's proven reliability means it is a cost effective source of renewable energy. The predictable financial returns from onshore wind farms make them very attractive to potential investors.


PROXIMITY: An export for electricity from Ireland is possible due to it's proximity to centres of high demand for electricity coupled with EU targets for renewable energy production.


STRATEGIC ENERGY RESOURCE: Ireland is a stable democratic country on the western edge of Europe. Power supplies from other parts of the world may be subject to disruption due to all manner of events outside European control. Ireland, as part of the EU, will be seen as a guaranteed reliable source of renewable energy.